Kirberger PC: a boutique law firm providing US visa and immigration services since 1998.
RSS
Follow @kirberger
Info
J-1 Visa: Exchange Visitors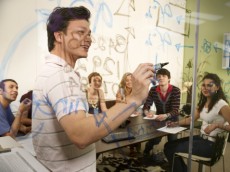 The J-1 Visa category is for Educational and Cultural Exchange Programs designated by the US Department of State, Exchange Visitor Program and Designation Staff. The J-1 Visa Program is designed to promote the exchange of persons, knowledge, and skills in the fields of education, arts, and sciences.
There are various types of J-1 Visa programs. The J-1 Visa program type we most often deal with are for professional development and training of foreign visitors to the US. These programs are sponsored by various organizations who then place trainees at a US company for up to an 18 month training period.
J-1 Visa Two Year Home Residence Requirement
One issue to be aware of when considering the J-1 Visa is if the Exchange Visitor has a strong possibility of being charged with a 2 year home residence requirement under §212(e) of the Immigration and Nationality Act because their particular area of expertise appears on the J-1 Skills List, a list of skills that various countries have identified as being in shortage (or if the home residency requirement attaches for any other reason, such a direct or indirect government funding or medical training).
If a particular profession or area of emphasis appears on the J-1 Visa Skills List, the home residency requirement attaches, and the J-1 visitor must then seek a waiver of that requirement. Skills List based waivers are often easy to waive. (Note that the most recent J-1 Visa Skills List went into effect on June 28, 2009. The previous version of the J-1 Visa Skills List applies to J-1 Visa Visitors who entered the US prior to June 28, 2009, the effective date of the latest version of the J-1 Visa Skills List.) However, J-1 Visa visitors from some countries and/or in certain occupations will have an extremely difficult time obtaining a J-1 waiver based on a No Objection statement.
So before obtaining a J-1 Visa, one should carefully consider whether the home residency requirement will apply, and if so, how difficult that will be to complete or to waive. Many J-1 Visa programs receive either US or other government funding, or funding from an international organization. This funding can be either direct or indirect. In such a situation, particularly with regard to US government funding, a J-1 Waiver of the two year home residency requirement can be nearly impossible to obtain, as are waivers for physicians who have received training in the US.
Types of J-1 Visa Programs
In addition to training and professional development programs, there are many other types of J-1 Visa programs. Participants include students at all academic levels; trainees obtaining on-the-job training with private companies, institutions, and agencies; teachers of primary, secondary, and specialized schools; professors coming to teach or perform research at institutions of higher learning; research scholars; professional trainees in the medical and allied fields; and international visitors coming for the purpose of travel, observation, consultation, research, training, sharing, or demonstrating specialized knowledge or skills, or participating in organized people-to-people programs.
Financial Resources: J-1 Visa applicants must demonstrate that they have sufficient funds to cover all expenses, or funds must be provided by the sponsoring organization in the form of a scholarship or other stipend.
Scholastic Preparation: J-1 Visa applicants must have sufficient scholastic preparation to participate in the designated program, including knowledge of the English language, or the exchange program must be designed to accommodate non-English speaking participants.
Medical Education and Training: J-1 Visa exchange visitors coming under the J-1 Visa program for graduate medical education or training must meet certain special requirements. They include having passed the Foreign Medical Graduate Examination in Medical Sciences, demonstrating competency in English, being automatically subject to the 2 year J-1 Home Residence Requirement (also known as the foreign residence requirement, the home physical presence requirement or §212(e) requirement), and being subject to time limits on the duration of their program. Physicians coming to the US on exchange visitor programs for the purpose of observation, consultation, teaching, or research in which there is little or no patient care are not subject to the above requirements.
Employment: Employment while in J-1 Visa status depends upon the terms of the J-1 Visa Program. Participants in programs that provide on-the-job training, teaching, research, or other activities involving paid employment may accept such employment. Participants in programs that do not involve work may not accept outside employment.
2 Year Home Residence Requirement (§212(e) Requirement): Certain J-1 Visa holders who participate in programs financed in whole or in part, directly or indirectly, by an agency of the US Government or by the exchange visitor's government, or who are nationals or residents of a country which have been designated as requiring the skills of the exchange visitor, must return to their country of nationality or last residence after completing their program in the US, and physically reside there for 2 years before they may become eligible to apply for an immigrant (green card or permanent residence) or temporary worker visa (such as the H-1B Visa or L-1 Visa; despite this, persons with two year HRR's may be eligible to switch to another categories, such as the O-1 Visa for persons of extraordinary ability, E-3 Visa for Australian professionals, or the F-1 Visa for students).
Family Members: The spouse and minor children of principal J-1 Visa applicants may apply for derivative J-2 Visas to accompany or follow to join the principal J-1 Visa applicant by presenting a copy of the principal's Form IAP-66 or DS-2019. They must demonstrate that they will have sufficient financial resources to cover all expenses while in the US. Dependents may apply to USCIS for authorization to accept employment in the US. Note that in cases where the principal J-1 Visa is subject to the home residency requirement, the derivative J-2 Visa holders will be subject to the home residency requirement as well.
Extension of J-1 Visa Status and Changing Programs: The Program Designation Branch in the Bureau of Education, Cultural Exchanges and Academic Programs (ECA) handles J-1 Visa extensions, category changes, and program transfers. You must contact them directly at (202) 203-5096 if you have questions about one of these issues. To obtain an extension of the 30-day post-program voluntary departure status, you must contact USCIS. To obtain an extension beyond the maximum limitation of stay of your exchange visitor program, you must contact the responsible officer or alternate responsible officer at your institution.
Lost DSP, IAP-66 or DS-2019 Forms: To obtain copies of lost DSP, IAP-66 or DS-2019 forms, a J-1 exchange visitor should contact the responsible officer or alternate responsible officer of the exchange visitor program(s) in which the J-1 exchange visitor participated while on the J-1 Visa.