Kirberger PC: a boutique law firm providing US visa and immigration services since 1998.
RSS
Follow @kirberger
News
US Embassy Beijing: New US Visa System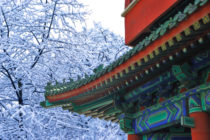 The US Embassy Beijing and all US Consulates in China that issue visas are implementing a new US visa appointment, fee payment and document delivery system starting March 16, 2013. This new US visa system, already in use in several countries, will make it easier for US visa applicants to schedule visa interview appointments, pay visa processing fees, and check on the status of their issued visas.
Beginning March 16, US visa applicants will only pay the existing, unchanged, visa processing fee of $160 for most nonimmigrant visa types. Previously, in addition to the processing fee, US visa applicants faced additional costs for scheduling appointments and arranging for the return of their passports. With the new US visa system, applicants will have the option to pay online using any debit card issued in China. Applicants will also be able to pay with a Union Pay ATM card at any CITIC automatic teller machine or in cash at any CITIC Bank branch.
US visa applicants in China will also be able to use a new online system to make visa interview appointments and to check on the status of their US visa applications. They will be able to call the new Call Center to make an appointment or to ask questions at no extra charge. The new system allows US visa applicants to pick up their passports at any one of more than 800 CITIC Bank branches across China. Under the new US visa appointment process, the US Embassy Beijing and US Consulates throughout China will continue to offer a drop-off nonimmigrant visa renewal service for most US visa applicants who are eligible to renew their visas without a personal interview.
The United States is committed to meeting the growing demand for US visas. In 2012, the US Mission China processed more than 1.34 million nonimmigrant visa applications, a growth rate of 34% over 2011. Nonetheless, wait times for interview appointments have averaged just five days for the past year. The new appointment, fee payment and passport return system is just part of the US Mission China effort to continually improve service to the Chinese traveling public.