Kirberger PC: a boutique law firm providing US visa and immigration services since 1998.
RSS
Follow @kirberger
News
US Embassy Cairo Resumes Visa Services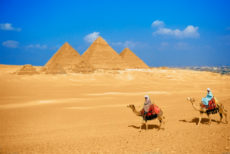 The US Embassy Cairo resumes visa services, both for nonimmigrant visas (NIV) and immigrant visas (IV) on April 10, 2011. Both nonimmigrant visa applicants and immigrant visa applicants whose appointments were canceled will be contacted for rescheduling of their appointments.
Nonimmigrant Visas (NIV) US Embassy Cairo
Vodaphone will contact nonimmigrant visa applicants whose appointments were canceled due to the suspension of visa operations to reschedule their appointments. Applicants may also reschedule a canceled appointment by contacting Vodafone directly at 0900-70-600 from a land line or 2100 from a Vodafone cell phone. All applicants who wish to schedule an appointment for the first time must follow the instructions on the Embassy's website.
Students, exchange visitors, and those with canceled appointments will be given priority in scheduling. All applicants should understand that it will take time to clear the visa interview appointment backlog. Travelers should not purchase tickets or make other irrevocable commitments until they have received their visas. Application fees and the requirements to qualify for a visa remain unchanged. All applicants must demonstrate convincingly their intent to return to Egypt following a temporary visit to the US.
Immigrant Visas (IV) US Embassy Cairo
The US Embassy Cairo will resume interviews for all immigrant visa categories on 10 April 2011. The US Embassy Cairo will contact immigrant visa applicants whose appointments were canceled because of the suspension of visa operations to reschedule new appointments. They will initially prioritize the immediate relatives of US citizens. Applicants with canceled appointments may also request new appointment dates by e-mail at ConsularCairoIV@state.gov. US citizens resident in Egypt who wish to file I-130 immigrant visa petitions for spouses, children or parents should contact Vodafone at 0900-70-600 to schedule appointments.
US citizens not resident in Egypt must file I-130 petitions with USCIS in the United States.
After Visa Interview Process for All US Embassy Cairo Applicants
All visa applicants may track the status of the administrative processing associated with their cases by checking the US Embassy Cairo's website, and following the posted instructions: http://egypt.usembassy.gov/consular/niv8.html (for NIV cases) http://egypt.usembassy.gov/consular/ivstatus.html (for IV cases) The US Embassy Cairo will return all visas via DHL courier service. Delivery status may be tracked at DHL Egypt.
No visa applicant should come to the US Embassy Cairo without an appointment. The US Embassy Cairo does not provide visa information on a walk-in basis. Applicants seeking information about a specific visa case should send an e-mail with case details to ConsularCairoNIV@state.gov for nonimmigrant visa cases and ConsularCairoIV@state.gov for immigrant visa cases.
Information about all categories of US visas is available on the US Embassy Cairo website and the US Department of State website.
American Citizen Services, US Embassy Cairo
The American Citizens Services (ACS) Section has resumed its normal appointment system for all non-emergency services. No walk-in clients are admitted with the exception of emergencies. Those seeking US passport services, Consular Reports of Birth Abroad, notarial services and all other non-emergency American Citizens Services should make an appointment by following the link under American Citizens on the Embassy's website.
Please send questions about American Citizens Services via e-mail to ConsularCairoACS@state.gov. American citizens may telephone the ACS Section at the US Embassy Cairo at 2797-2301 during business hours Sunday-Thursday from 1:00 pm until 3:00 pm. For emergencies after business hours or on weekends, American citizens may contact the Embassy Duty Officer via the Embassy switchboard at 2797-3300. The US Embassy Cairo appreciates the public's understanding and cooperation as consular service hours are adapted as necessary to ensure the full safety of consular clients and Embassy staff.